Course introduction video
Great design is the foundation of high-value jewellery. This course aims to give students the necessary foundations to develop aesthetic appreciation, high standards and skills in creative drawing and essential jewellery knowledge.
This course is entirely online and consists of 5 progressive modules.
What you'll get:
22 hours of HD video content
Expert instructor
Assignment grading and feedback (Worth $200)
Modular progression, unlock content as you go
Professional Certificate awarded by JDMIS
Course instructor
Tanja is an award winning jewellery designer with more than 4 decades of experience educating the jewellery industry across 4 continents. Dean and founder of JDMIS, Tanja works with aspiring artisans as well as top jewellery brand team members to help them achieve brilliance in their careers. Read More


Course materials
Students of this online course can choose to buy the materials themselves or click here to buy the whole toolkit set from us.
This is the same kit that our students receive when they attend class in person at JDMIS. As a participant of this online design course, you have the fuss-free option of purchasing this Course Kit online, and have it delivered so that you'll also have all the drawing materials needed to complete your coursework. Alternatively, you may also choose to source for the required tools and materials yourself.
Professional Certification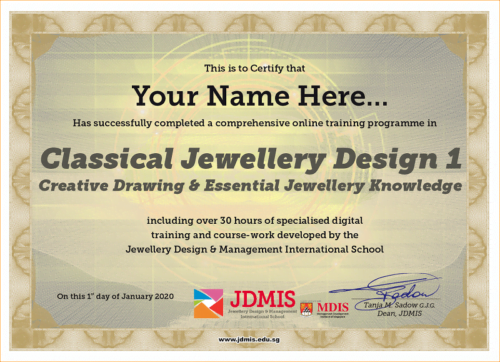 This online programme is adapted from JDMIS' most popular Certificate Course, Classical Jewellery Design 1 – Creative Drawing and Essential Jewellery Knowledge. It will cover the same topics and confer the same Professional Certification as the one in class (after successfully completing the final test).
Topics Covered: