Professional Certificate
Fundamentals of Digital Jewellery Design (CAD)

Fully Online | 2-4 weeks | 450 USD
Do you want to get a head start in your jewellery career?
Computer aided design and manufacturing (CAD and CAM) processes are revolutionising jewellery today. Freelance designers can produce one-of-a-kind jewellery at a fraction of the cost and jewellery manufacturers can increase production efficiency and quality well beyond what was possible.

Jump-start your experience with CAD using industry-leading CAD software by Gemvision: MatrixGold. Together with essential software skills, you will learn useful sizes, shapes, measurements and a lot more!
By the end of this course, you will gain the confidence to
3D and Jewellery Modelling Essentials
Using a series of simple projects, learn about ring design and placing and setting gemstones. Understand basic manipulations, common sizes and thicknesses needed for jewellery parts and creative ways to manipulate basic shapes to produce stunning variations in seconds.
Curves, Surfaces and Solids
Learn how to create and manipulate curves, create surfaces & solids. Trace curves over scanned paper sketches. Understand solid modelling concepts and use them to create unique shapes and designs.
Master the Commercial Staples
Walk into any jewellery store and you will see a wide range of commercially popular design styles, from crossover to cathedral shanks, from channel to bead settings, from solitaire to gem-encrusted styles. Master these popular styles that employers and entrepreneurs world-wide require of their design team.
Produce Rings, Pendants, Earrings and more
Learning projects introduce concepts as well as applications and encourage the creation of a wide range of jewellery types, including a variaty or open-and-closed shank rings, pendant varieties, earrings, brooches and charms.
Learn Jewellery Setting Styles
Explore standard jewellery setting methods and how to model them in 3D. Learn about bezel settings, prong heads, halo settings, narrow channels, wide channels and more; understanding measurements, guidelines, manufacturing minimums and creative combinations.
Rendering with Cycles
Produce photo-realistic high-resolution renderings suitable for a professional portfolio or website. Learn tips for producing stunning, true-to-life renders by incorporating HDR environments and simulating real-world depth-of-field effects.
Alex has been training designers and business owners from the region in 3D jewellery design and manufacturing since 2008: building the CAD/CAM skills of over 500 jewellery professionals. He graduated from Duke University with a Bachelors'degree in Computer Science, Marketing and Management and from INSEAD with a Masters' Degree in Business Administration.
Processional Certificate in Digital Jewellery Design
Upon completing all online modules and passing all assignments, learners will be awarded with an e-Copy of the Digital Jewellery Design 100, which is well recognised by the industry in Singapore and the region.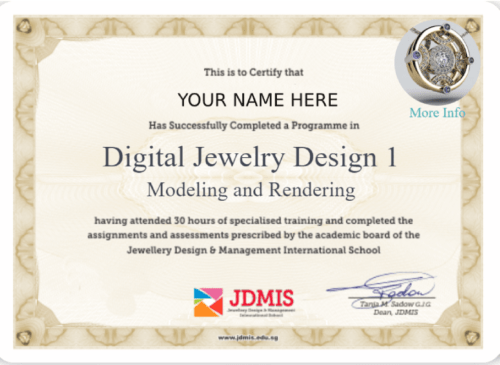 Limited-time Promotion
40% OFF & Exclusive Bonuses


- 30% more affordable than buying individual modules (save $300)
- Gem & Jewellery Purchase Tips eBook by Tanja Sadow (worth $100)
- Life-time access to online video content (worth $200)


Total value: $1,300
Now Only 450 USD For A Limited Time!
Not Ready For the Full Course?
Start with Module 1 - 3D and Jewellery Modelling Essentials
This course will equip you with essential skills, from ring design to gemstone setting, using hands-on projects. Learn to manipulate basic shapes, understand jewellery dimensions and create stunning designs in seconds. It's not just a course—it's your gateway to mastery in digital jewellery design. Embark on your creative journey today with jewellery design today!
This amount will be entirely refunded if you chooose to purchase the full DD100 course later.
This online course provides all materials in digital format for easy access. The course purchase also comes with a free time-shared license* to the software MatrixGold. All you need is a functional computer and a steady internet connection to connect remotely to our recently upgraded computers, pre-installed with MatrixGold, allowing convenient learning from any location worldwide.
*A MatrixGold license costs $395 per user for 6 months. You can let us know if you want to purchase a license for yourself and we will provide you with further instruction. Time-sharing means you will be provided with a remote access key and allocated time slots to access the licensed machine. We will ensure that each learner is provided with a fair and ample amount of weekly access time for learning and practing from home.
Founded in 2007, the Jewellery Design and Management International School (JDMIS) is a unique school in Asia providing Jewellery Design and Management Programs. JDMIS is Singapore's only specialized jewellery school and offers end-to-end jewellery education, which includes Professional Certificate Courses leading to Diploma and Advanced Diploma. 
A wonderful course that gives the knowledge of designing jewels, more flexibility to the designer and creates the final output easily.
Sha M.
Really appreciate the detailed course materials and demo sessions in class!
Michelle T.
My favourite course! Didn't expect to learn digital design that easily, thanks to Alex's wonderful teaching.
Soi Mui
The structure of the course materials was easy to follow. All the tools are relevant for the day to day CAD design.
Hanna A.
It's a great and useful course... The course content is very well curated.
Kai Jun E.
Elevate your jewellery design prowess with Digital Design Today
Limited-time Launch Offer

Most frequent questions and answers