In todays competitive jewellery industry the only way to excel is through unique and saleable designs. A strong foundation in jewellery design is the basis for many jewellery career paths.
Not sure if you can draw jewellery?  With this intensive program you can learn, from first principles, the fundamentals of jewellery design.  No prior design or art experience is required.  By the end of this course you will complete a mini portfolio of creative designs and leave with a clear understanding of how to transfer your ideas to paper in preparation for the next important step, the manufacturing of the piece.
This course is entirely online and consists of 5 progressive modules where you can purchase and start with the first module.
Preview video

What you'll get:
22 hours of HD video content
Expert instructor
Assignment grading and feedback (Worth $200)
Modular progression, unlock content as you go
Professional Certificate awarded by JDMIS
Satisfaction guaranteed: If you feel you have purchased the course by mistake or you are not happy for whichever reasons, we will provide a full refund (except for any course materials purchased from us), when you send in the request within 15 days from the date of purchase.
Course instructor
Tanja is an award winning jewellery designer with more than 4 decades of experience educating the jewellery industry across 4 continents. Dean and founder of JDMIS, Tanja works with aspiring artisans as well as top jewellery brand team members to help them achieve brilliance in their careers. Read More


Course materials
Students of this online course can choose to buy the materials themselves or click here to buy the whole toolkit set from us.
This is the same kit that our students receive when they attend class in person at JDMIS. As a participant of this online design course, you have the fuss-free option of purchasing this Course Kit online, and have it delivered so that you'll also have all the drawing materials needed to complete your coursework. Alternatively, you may also choose to source for the required tools and materials yourself.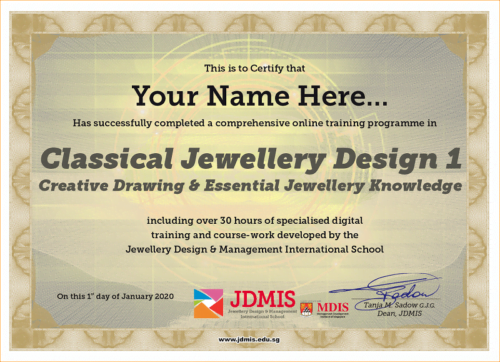 Professional Certification
This online programme is adapted from JDMIS' most popular on-campus Certificate Course, Classical Jewellery Design 1. It covers the same topics and confer the same Professional Certification as the one in class (after successfully completing the final test).


Hear from JDMIS' graduates:
Topics covered:
Frequently asked questions
How long does it take to complete the course?
The course consists of 22 hours of HD videos and one to two graded assignments for each Module. It usually take up to 5 days of intensive learning or longer depending on your self-study pace.
When is the start date?
This is a completely asynchronous (self-paced) course so you can purchase and start in your own pace. Upon successfully completing all the topics and assignments (graded with detailed feedback by Tanja), you will receive a Professional Certification in Classical Jewellery 1.
Is the Certification recognised?
The JDMIS curriculum was designed with input from the jewellery industry, and heeded the call for the programmes to be relevant to today's
creative world. In Singapore and abroad, organisations such as Tiffany & Co, Cartier, Harry Winston, BP DeSilva Group, Louis Vuitton as well as gemstone manufacturers like Swarovski and Signity value our training curriculum and send their staff for training. International firms such as these and many local jewellery businesses employ JDMIS students in various capacities.The school is registered and recognised as a Private Educational Institution in Singapore, and its courses are recognized by local authorities for employee development within the jewellery industry. JDMIS has established pathways to degree programmes at Birmingham City University and the University of
Sunderland. ie: Courses are recognised for academic and vocational study
What are the career opportunities for me after graduating from the course?
Like any other creative industry, the jewellery industry is one in which individuals can create their own unique opportunities. Job categories include: jewellery designer, jewellery artist, jewellery retail specialist, jewellery marketing professional, jewellery management professional, educator or even an entrepreneur in the jewellery industry.
What is the entry requirement?
The course is completely beginner friendly with no special entry requirements except that learners need to have proficient ability in listening and comprehending English as the teaching medium.
Do I need to have an art background?
This course is beginner-friendly with detailed step-by-step lessons to help you systematically generate ideas that are both practical and aesthetic. No art or creative background is required.
For any other queries, kindly contact the Support Team at online@jdmis.edu.sg. Our working hours are from 10am to 7pm Singapore Time, every day except Friday and Public Holidays.